"As an Amazon Associate I earn from qualifying purchases."
Best Microwave Deals in the United Arab Emirates – Under 300 AED
Microwaves have become an essential household appliance for many people in the United Arab Emirates. They save time and energy by heating or cooking food quickly.
If you are looking for a microwave for personal use or a small family of 2-5 persons we recommend getting a 20-liter size microwave it will be suitable for your needs and the price range will be from 200-300 AED.
To Get a good size microwave for less than 300AED you should aim for a size between 20 to 22 liter 
Please note that the prices of the products below may vary slightly after the date of posting this content 
Choosing a microwave might be tough with so many possibilities. This page lists the top 10 UAE microwave offers based on price, features, and customer reviews. We have basic and complex models with different cooking options. To find the right microwave, keep reading.
We will be showcasing the top 10 best microwave deals available in the United Arab Emirates, all under 300 AED. Whether you're looking for a basic model or one with advanced features, we've got you covered.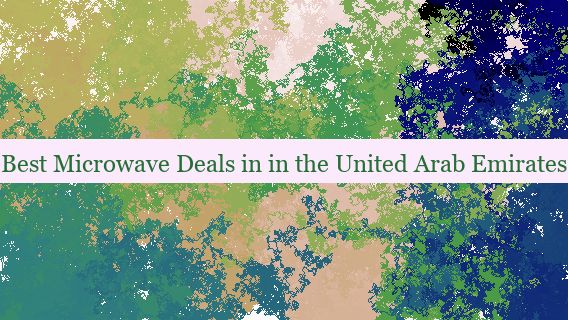 BLACK+DECKER 20L 700W Microwave Black
Black & Decker MZ2010P, the finest 20-liter microwave oven!
This microwave is attractive and durable with its black design and aluminum and glass construction. Cook your favorite recipes quickly with 700 watts and 240 volts. Family-friendly 20-liter size is ideal for entertaining. Don't miss this amazing microwave offer. The Black & Decker MZ2010P makes every food flawlessly prepared.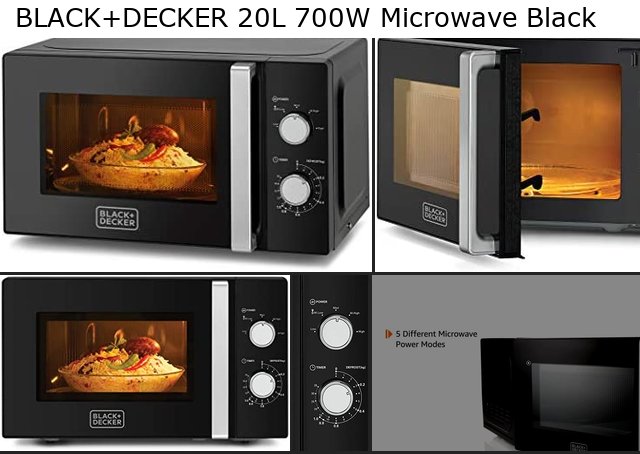 Brand: Black & Decker
Model Number: MZ2010P
Color: Black
Compact size: 32 x 49.6 x 39.2 cm
Volume Capacity: 20 Liters
Power: 700 watts
Voltage: 240
Material: Aluminum and Glass
Weight: 11.8 kg
Advantages

Perfect for small kitchens and limited space
Cooks food evenly and quickly
Easy to clean and maintain
Affordable pricing
Durable and long-lasting
Sleek and modern design
LG 20 Liters Solo Microwave
LG MS2042DB 20-liter microwave oven complements every kitchen. This 700-watt microwave heats food swiftly. The turntable promotes uniform cooking, and the sleek black appearance matches any kitchen decor. It's lightweight at 11.7 kg.

Brand: LG
Model: MS2042DB
Dimensions: 26 x 45.5 x 32 cm
Energy Use: 700 Watts
Capacity: 20 Liters
Color: Black
Wattage: 700 watts
Material: Metal
Included Components: Turn Table
Item Weight: 11.7 kg
Midea 20 Liters Solo Microwave Oven
The Midea MMC21BK complements every kitchen. This countertop microwave fits tiny spaces with a 20-liter capacity and 700-watt output. The 35-minute cooking timer and power thaw make cooking and reheating your favorite meals easy. The black design, turntable, and glass plate make it elegant and functional. It's portable at 10.6 kg. Upgrade to the Midea MMC21BK.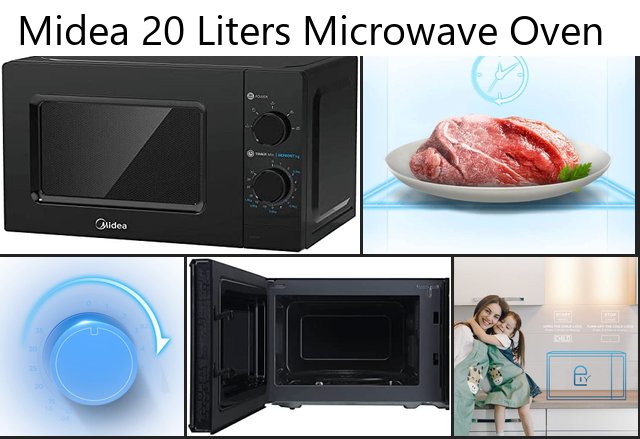 Brand Name: Midea
Model Info: MMC21BK
Capacity: 20 Liters
Compact and convenient countertop design
Special features: 35-minute cooking timer, power defrost, and black color
Voltage: 230 Volts
Wattage: 700 watts
Includes user manual, turntable, and glass plate
Lightweight and easy to use at only 10.6 kg.
Geepas 20L Microwave Oven
The elegant Geepas GMO1894 1200W Digital Microwave Oven will upgrade your kitchen. This stainless steel microwave is ideal for heating and defrosting with a 20-liter capacity and 6 power levels. Its tiny black appearance makes it a smart kitchen accessory. The Geepas GMO1894 has an easy-to-use digital display.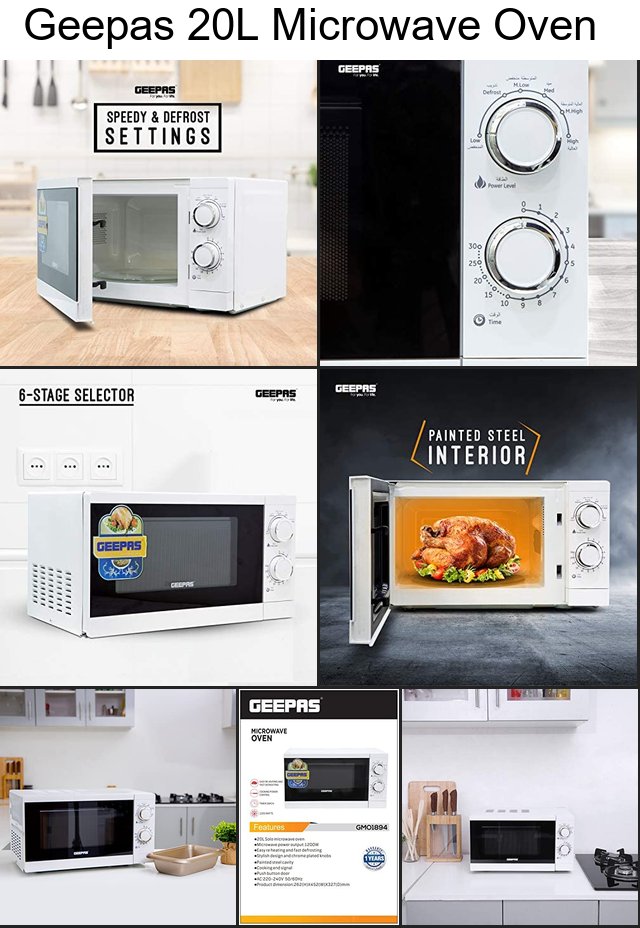 Brand Name: Geepas
Model Info: GMO1894
Product Dimensions: 45 x 36 x 26 cm
Energy Use: 220 Watts
Capacity: 20 Liters
Wattage: 1200 watts
Material Type: Stainless Steel
Item Weight: 12 kg
6 power levels for versatile cooking options
Stylish black color design
Easy-to-use digital controls
Comes with a user manual and turntable
Kenwood 20L Microwave Oven With Grill
Kenwood MWM21.000WH 20-liter microwave is powerful and stylish. This microwave cooks huge meals and defrosts frozen goods with 1000 watts and 20 liters. Its white tone modernizes kitchens. Cooking is easy with the turntable and grill accessories. This microwave weighs 12.9 kg and is portable.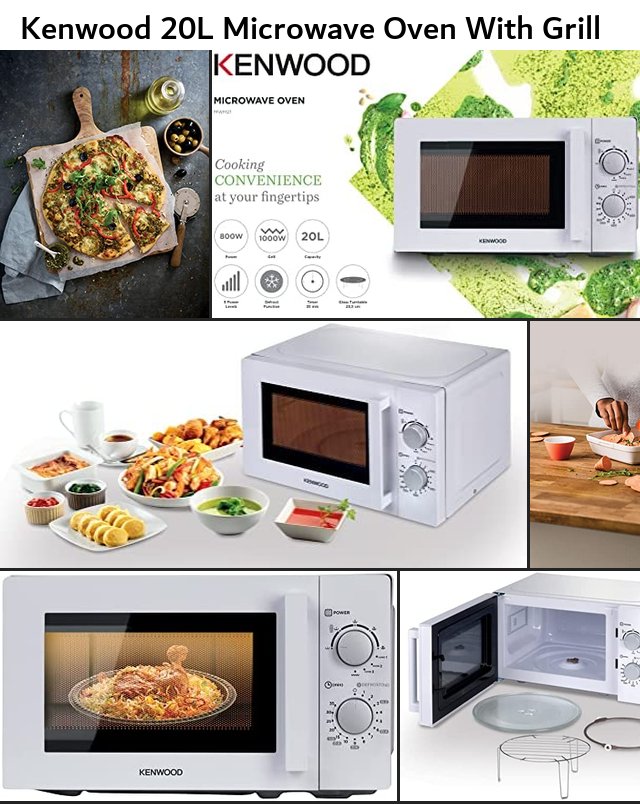 Brand Name: Kenwood
Model: MWM21.000WH
Capacity: 20 Liters
Color: White
Wattage: 1000 watts
Included attachments: Turntable and grill
Stylish and Sleek design in white color
Large 20L capacity to fit all your cooking needs
1000 watts power for efficient and fast cooking
Turntable and grill attachments for versatile cooking options

Easy to clean and maintain

Durable and long-lasting design
Lightweight, only 12.9 kg
Best Microwaves Rating
BLACK+DECKER 20L 700W Microwave Black
LG 20 Liters Solo Microwave
Midea 20 Liters Solo Microwave Oven
Geepas 20L Microwave Oven
Kenwood 20L Microwave Oven With Grill
Microwaves Overall Rating